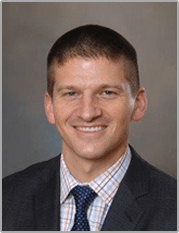 Patrick Jost, M.D
Board Certified Orthopedic Surgeon
Dr. Jost is an orthopedic surgeon specializing in sports medicine and arthroscopic surgery of the hip, knee, shoulder, and elbow. He also is skilled in minimally invasive knee, hip, and shoulder replacement.
Dr. Jost is a graduate of the University of Wisconsin Medical School, and completed his orthopedic surgery residency at the Hospital for Special Surgery in New York, NY, ranked #1 in orthopedics by US News and World Report Best Hospitals.
Following his residency, Dr. Jost undertook a year of additional subspecialty training as a fellow in sports medicine and arthroscopic surgery under Dr. James Andrews in Birmingham, AL. There he learned and perfected cutting edge techniques in ACL reconstruction and knee ligament injuries, labral and rotator cuff repair of the shoulder, arthroscopic hip preservation surgery, and ulnar collateral ligament reconstruction of the elbow (Tommy John surgery). Under Dr. Andrews's mentorship, he gained expertise as a team physician as he helped care for the University of Alabama, Auburn University, and Troy University athletic teams. He also traveled to Zurich, Switzerland to train with international experts in hip arthroscopy and the treatment of hip disorders, including femoroacetabular impingement and labral tears of the hip.
Dr. Jost's research has focused on understanding and improving the treatment of sports injuries. He has written articles and presented at international meetings on topics such as ACL reconstruction, rotator cuff repair, arthroscopic treatment of hip injuries, and elbow injuries in throwers.
A native of Muskego, Wisconsin, Dr. Jost now resides in Mequon with his wife and four children. He enjoys fishing, golf, and spending time outdoors with his family.
Ascension Medical Minute - Patrick Jost, M.D.
Patient Testimonial - Patrick Jost, M.D.
Patrick Jost, M.D
1218 W. Kilbourn Avenue
Suite 301
Milwaukee, WI 53233

(414) 276-6000

(414) 276-1758
10586 N. Port Washington Rd.
Mequon, WI 53092

(262) 243-9100

(262) 243-9140